Welcome to Judy's Creative Adventures, LLC
Women's Luxury Tours personally designed for women by women.
Are you a woman wishing to experience the cultures of the world?
Are you awed by natures beauty?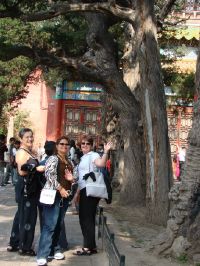 Do you love to discover quaint places as you travel? Do you like to interact with women of other cultures? Does your idea of traveling involve small groups and other friendly women? If this describes your travel ambitions, then join the growing group of women who travel with Judy's Creative Adventures. Experience our unique women's journeys around the world.
Our tours are custom-designed, by women - for women. They go beyond the "average" group tour. Judy's Creative Adventures offers quality small group journeys in a safe and fun environment. With us, you will enjoy the companionship of your fellow travelers - women from all walks of life; all with the desire to explore the marvelous cultures of the world. We wish to encourage more women to travel and to do that we provide a carefully chosen array of small group tours just for women.
Destinations are carefully selected for their unique history, scenic beauty,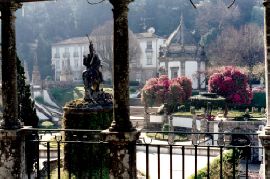 cultural heritage and inspiration. Discover the dramatic gardens and historic castles of Cornwall and Wales, the famous sights of always spectacular Paris, the remarkable Mayan ruins of Belize, the fabulous textiles of Bali, the delightful Christmas Markets of Europe, the wonders of Asia, or the adventures of an African Safari. Our well-designed tours will enhance your travel. Our guides are friendly, knowledgeable and eager to share their city or country with you.
Let your imagination soar, begin your exciting journey as yo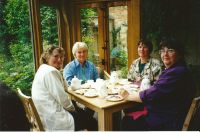 u view all the tempting travel opportunities, make your choice, and join us on a trip of a lifetime! It's fun, it's easy, and we do all the planning. Don't wait any longer - a marvelous adventure lies ahead!

Select the vacation of your dreams on the right.
We look forward to traveling with you!


From Our Travelers -

I have had the privilege of working with Judy Berry on several projects, and I can attest to the positive, enthusiastic attitude she brings to any undertaking. After decades as a tour operator, Judy still delights in discovering the interests and abilities of potential clients, so she can custom design unique, rewarding, and challenging travel experiences. She revels in researching opportunities tailored to each group, to ensure that their time exploring other countries is utilized to the fullest.
I was lucky to be a part of Judy's 2007 tour to Bali and Java, Indonesia. The tour focused on the textiles, art, and culture of this amazing region -- a dream-come-true for any quilter or fiber artist. We not only went behind-the-scenes to see how Bali's signature fabrics were made, Judy arranged workshops for the group, so we could experiment with, and manipulate the material for our own art projects. In the evenings our tour group interacted with native Balinese and Javanese – learning directly from the islands' inhabitants about their work, families, history, and culture. Without a doubt, these encounters elevated the experience and transformed a tourist excursion into something much more meaningful.
I am very much looking forward to returning to Bali and Java with Judy in an upcoming tour – I am confident she will once again provide the experience of a lifetime.

E.L. - Stoughton, Wisc./Mesa, Az.
This was a very exhilarating trip! I loved walking though the small towns of the Cottswolds, the gardens were spectacular! I especially enjoyed the time when they were having a rubber ducky race in a canal and we all bought chances to win along with the locals and supported their church. Such fun! I appreciated, when we found something not on the agenda, you gave us the time to join in, or take more time to investigate a garden, or wave our scarves on the moors, or visit a bookstore. Each area we visited was well laid out but there was always the opportunity for flexibility. Our guide was so nice and gave us great information on all the places we visited. We were glad to have Judy along to keep us running smoothly. I really liked the botique type hotels and loved meeting with the locals. We all had a wonderful time!
B.C. - Portland, Oregon

Join our women's travel community and receive our newsletter every other month.
Click Here