Itinerary For Yunnan & Ancestral Tibet

Depart the USA:
International airfare is not included in the tour price, as many travelers wish to use their air miles and favorite airlines. You may book your individual air transportation to China or if you wish, we will be booking a transpacific Flight, LAX to Kunming for group members.

Day 1 Arrive Kunming
Arrive in Kunming in late afternoon. You will be met by your female Han or Minority guide and male driver and transfer to the hotel. Evening free to recuperate and adjust to time zone.
Accommodation: New Era Hotel Kunming (business room).

Day 2 Kunming - UNESCO Stone Forest - Textile Demos - Cultural Museum of the Yi Minority People
On your first morning in China partake of a Western and Chinese buffet breakfast in the hotel. Kunming city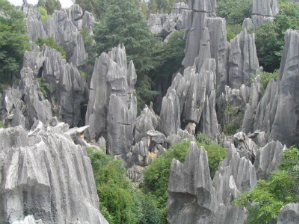 is the provincial capital of Yunnan Province and called 'The City of Spring'. It is well-known for its beautiful landscape, agreeable climate and fresh flowers blooming throughout the year.
This morning's excursion is to the UNESCO World Heritage Site the Stone Forest, an amazing geological location of karst formations jutting from the ground. Enjoy Lunch in a Yunnan cuisine restaurant.
In the afternoon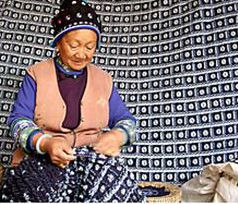 continue your journey to the autonomous county of the Yi People and visit the Nuohei Shitou Village to see and learn the traditional embroidery processes and local batik making techniques. Both are ancient arts of China and have been developed over many centuries.
Next visit the Cultural Museum of the Yi Minority People. This museum
shows the shape of a typical Yi village tucked between mountains, presenting their customs, homes and arts and crafts. A glimpse into ancient Yi life styles and customs.
Return to Kunming for dinner (on your own) . This evening a music & dance program "Dynamic Yunnan" richly depicting the flavor of life of the ethnic minorities of SW China. Accommodation: New Era Hotel Kunming (business room). B-L


Day 3 - Kunming to Dali - Flight - Dali Old Town - Three Pagodas
Breakfast, then transfer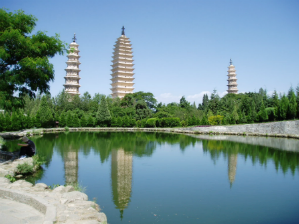 to the airport and fly to Dali this morning. Be met by a Bai minority female guide. Venture to azure Erhao Lake, surrounded by mountains similar to Lake Tahoe. Enjoy a boat ride on the lake and see the sacred Three Pagodas which have stood through a millennia of earthquakes and invasions. Next tour Dali Old Town with its medieval alleys and lanes filled with traditional medicine and artwork shops.
Finally venture to your boutique hotel, the Linden Centre (standard room); a renovated former family manor house run by American expats and staffed by Han and minority staff. Enjoy a superb Bai cuisine dinner at the hotel. The Linden Centre has special cultural demonstrations including music, dance and textile weaving.
Accommodation: The Linden Centre, Xizhou B-L-D