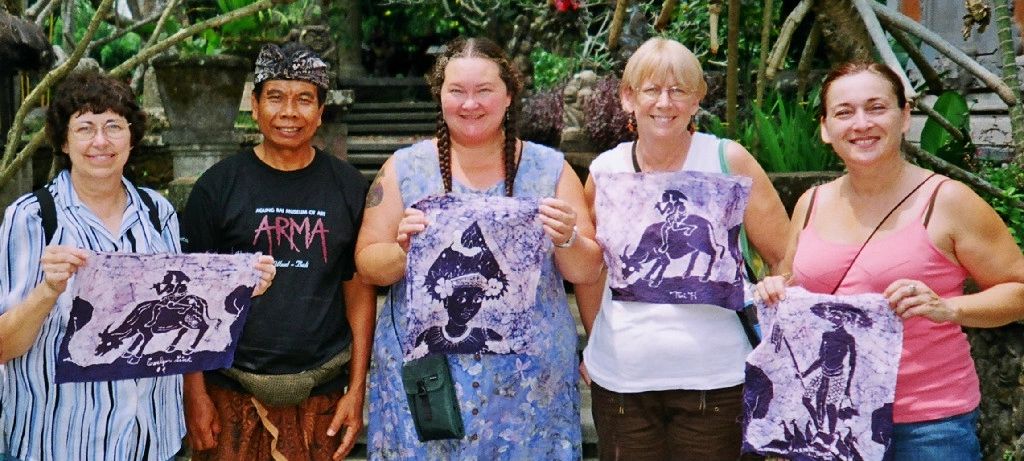 Artful Women Tours
Our
"Artful Women"
tours highlight the arts and crafts of a country. If you love textiles, quilting, weaving, pottery and the general arts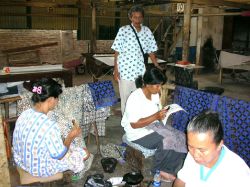 combined with meeting local artists, then these tours are for you. Mix in local history, scenic beauty, and sightseeing and you have a well-rounded journey into the culture of the region you are visiting.
Handmade arts are a window into culture - beading and wood carving in Africa, batik and Ikat weaving in Bali, silk in Thailand and Laos, quilting in England, Australia and the USA, lace in Belgium, glass in Venice, to name just a few.
During our "
Artful Women"
tours we often take classes from locals, visit workshops and factories, meet artists in their studios, visit museums and galleries, and browse through local markets to seek out local arts and crafts. Of course, there is always time for more exploring and some shopping too.
Delight in the arts and crafts of the world and join one of our "Artful Women" tours.
_____________________________________________________________________________________
Artful Women Tours
________________________________________________________________________________________________ _____________
Machu Picchu and the Traditional Textiles of Peru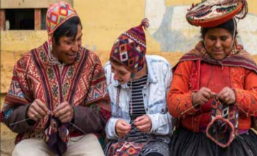 July 16-25, 2017
Rich Peruvian Culture, Ancient Inca Ruins,
Traditional Textile Arts of the Sacred Valley
and a Trip Extension into the Amazon!

This is truly a luxury journey into the heart of the Andean culture. From a coastal city to the heights of the Andes you will be immersed in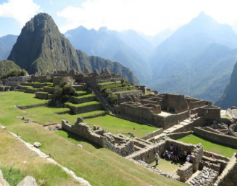 the daily life of the people of Peru. It's villages and towns are filled with colorful markets, Andean music, native cuisine and handmade
textiles. Learn of their textiles and try your hand at a little weaving. Meet local artists.

Ride the dome train up to Machu Picchu for a two day visit to this unique historical site. Wander the Machu Picchu grounds with a guide and learn more about this Inca site. Then explore Cusco and all its cultural offerings. Then off to Puno and Lake Titicaca where villages float on islands made of reeds. A spectacular tour to a world renowned cultural area, Peru!

See the Amazon extension that follows this tour.

Itinerary and Pricing
_____________________________________________________________________________________________________________________________________

Amazon Rain Forest Trip Extension
Following the Peru Tour
July 25 - 28, 2017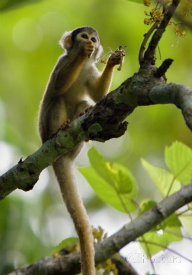 If you have chosen to continue on to the Amazon Extension you will do so from Lima.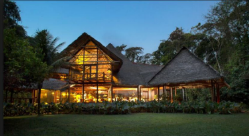 This is an exciting opportunity to explore Peru's Amazon Rain Forest located in southeastern Peru, just west of the Bolivian border. You will be staying at the very special Inkaterra Amazonica Lodge, one of the best in the area, where they offer many "A la Carte" excursions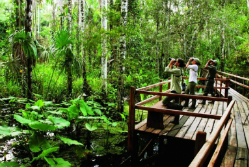 and activities included in your stay.

Walk on the boardwalk into the forest, take a boat ride to watch for monkeys and other wildlife. Walk on the raised rain forest canopy up in the tree tops to view life above the ground. Lots of beautiful birds. A fascinating experience.

Itinerary and Pricing
____________________________________________________________________________
Traditional Textiles of Fascinating Yunnan China
Explore Northern Yunnan' s many ethnic villages
and Ancestral Tibet Automatous Area
September 15-26, 2017
Yunnan translates to 'South of Clouds" and the region stands distinctly apart from other parts of China. Within this single province,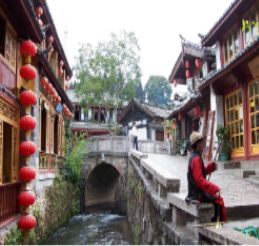 unmatched in the complexity and scope of its history, landscape and peoples, you will find a mix of geography, climates and nationalities that elsewhere it will take an entire continent to express. Yunnan was traversed by the fabled Tea and Horse Road, an important trading network that rivaled the importance of the Silk Road. Home to almost half of China's 54 minority groups, traditional culture and textile processing can still be readily observed.

Northern Yunnan in the Himalayas contains ancestral Tibet, the re-named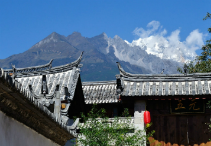 region of Shangri La has always exercised a unique hold on the imagination of the outside world. Despite its increased exposure to modernity, the magical Buddhist kingdom seems to exist in another dimension, and still retains much of the mystery that entranced early travelers to the region. As a small group you can enjoy visiting directly with artists and locals. This is a trip of a lifetime!

Itinerary & Pricing
___________________________________________________________________________________________________
Bali Batik Adventure
October 2017
13 Days/12 Nights
Bali & Yogyakarta, Indonesia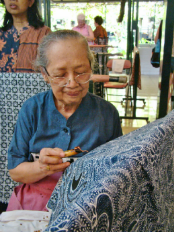 Beautiful, exotic, mysterious, enchanting Bali awaits your discovery. Rich in diversity, Bali will overwhelm your senses with its gorgeous landscapes, beautiful flowers, smiling people, magnificent
shrines and temples, and its devotion to the creative arts.

Immerse yourself in the arts and cultures that are part of Bali's daily life. Nearly everyone is an artist of some type. Visit several batik artists in their studios, participate in batik workshops and enjoy two batik classes. Meet with a women's traditional handmade Batik co-op. Visit an extraordinary village of Ikat weavers, and meet with a family that weaves in their home.
You will stay in beautiful luxury accommodations, one on the beach and two with marvelous garden settings and pools. Enjoy the daily sightseeing and explore the beautiful countryside. Once you visit Bali your heart will always long to return.

Itinerary and Pricing
__________________________________________________________________________________________________________________
Tours 2018


Let's All Go To Santa Fe......For the International Folk Art Market
Spectacular Scenery and The Arts of Santa Fe and Taos, New Mexico
July 2018


Let's All Go to Santa Fe is a tour for women interested in International Folk Art. This amazing Folk
Art Market features folk artists from around the world. This market has changed the lives of many of its participants, ethnic artisans who bring their cultural arts and crafts to the market. It is a spectacle of color, crafts, and languages. Imagine visiting an ethnic market in Vietnam, India, Peru, or some other country. Here you do not have to imagine because artists have traveled from countries around the world to bring their traditional folk art to you.

Santa Fe is a marvelous arts and crafts center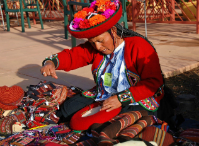 in its own right, with many galleries, historic buildings, and southwestern flare. Enjoy a walking tour through the city center, visit galleries, try the cuisine and immerse yourself in the culture.

On this tour your days will be filled with art, architecture, and colorful people.

Pre-Tour July 9 - Take a trip up to Taos for an artful experience in this small arts and crafts town.

.Itinerary and Pricing
---------------------------------------------------------------------------------------------------------------------------------------------------------------------------------------------
A Women's Vietnam Cultural Adventure -
History, Traditions, Handcrafts, Textiles & Warm People
September 2018
15 Days /14 Nights
North, Central & Southern Vietnam
Extension to Cambodia Available
Your exploration of Vietnam covers the length of this long narrow beautiful country. Sail on a traditional junk in breathtaking Ha

Long
Bay among the 1,600 Karst islands and islets. Discover the beautiful ethnic clothing still worn by the women of northern Vietnam. Browse through long-standing local ethnic markets visited by the colorful Flower Hmong, Black Zao, Phu La, Nung, Tay and San Chi minorities. Enjoy an embroidery class with local Red Dao, and observe the dyeing, spinning, and weaving process of the Black Hmong. Visit other minority villages in the area.
Tour the iconic cities of Ho Chi Minh (formerly Saigon) and Hanoi with their many historic sites and beautiful temples, lakes and markets. See where emperors ruled in Hue and where they were laid to rest in massive decorated tombs. Explore the ancient trading town of Hoi An, known for the architecture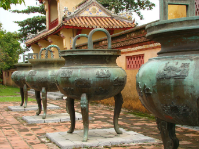 influenced by decades of merchant traders. Discover silk and other enticing local shops. Explore ancient ruins of the Champa Kingdom. Travel to ancient cities in the Bach Ninh Province.
The food is delicious, and you will have the opportunity to try your hand at some Vietnamese cooking. You will enjoy lovely accommodations and have occasions to intermingle with the friendly Vietnamese people. You will be able to visit with locals from ethnic minorities to sophisticated city dwellers and we even include a visit tp a local quilt shop. This is a trip to remember and a marvelous opportunity to see Vietnam through a woman's eyes.
Itinerary and Pricing
_____________________________________________________________________________________________________
Cambodia Extension
September (Following the Vietnam Tour)
5 Days/ 4 Nights

Cambodia Extension
- An exciting extension to Cambodia is a must do when you are in this part of the world. Visit the capital city of Phnom Penh with its beautiful Royal Palace, marvelous National Museum, and great markets. Visit Siem Reap, the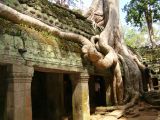 gateway to the astounding Angkor Wat complex of temples. Be awed by the mastery of the Khmer architects who built these lavish temples and Royal enclosures. Then, experience life on the water as you boat past floating villages. Explore the project of rebuilding the textile industry through reforestation and learning ancient processes, now again in demand. A marvelous trip to experience - A Women's Vietnam Cultural Adventure and the splendors of Angkor Wat Temple Complex and Cambodia!
Itinerary and Pricing
_____________________________________________________________________________________________________