Visiting the Famous
Sisters Outdoor Quilt Show 2015
My good friend Evelyn Link, is on the traveling road again. She spends the summer near relatives in Wisconsin and winters here in AZ. This year she left Wisconsin to enjoy the Sisters Outdoor Quilt Show with her sister Hazel Robinson. Hazel spends her summers in Soldotna, Alaska and then warms up again here in AZ. Evelyn has been kind enough to share some of her Quilt Show pictures with us.
Hazel Robinson & Evelyn Link
Sisters Having Fun in Sisters
The Sisters Quilt Show is very special to me. When I lived in Portland, Oregon, I used to take buses of quilters from Portland to Sisters for the show. I did this for many, many, many years. And always loved it!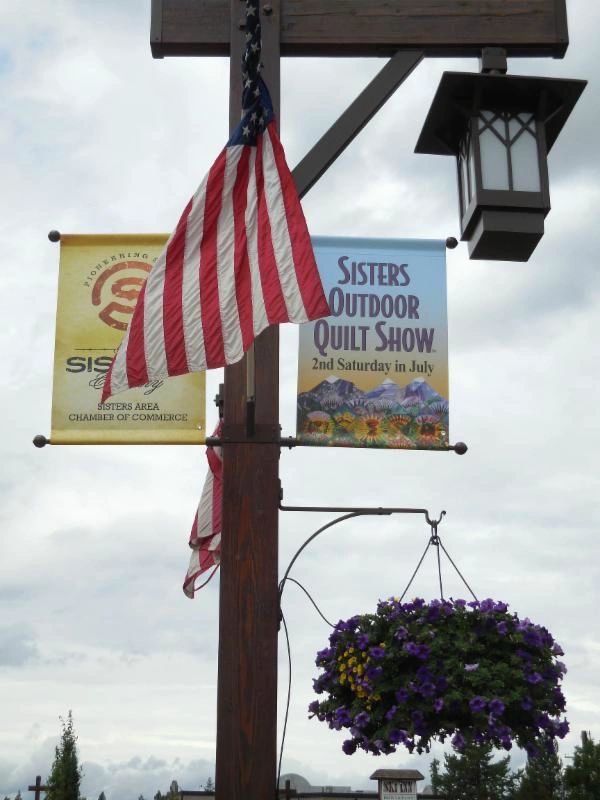 Over the years we watched the show grow and grow, this year they hung 1,400 quilts. The amazing thing about the Sisters Show is, this little western town goes all out for the show. They have quilts in all the stores, hanging on buildings, everywhere you look there are quilts.
Well organized volunteers hang all the quilts in the early morning hours, so the show is ready to greet all the thousands of visitors that descend on Sisters. They expected well over 12,000 spectators for the 40th Anniversary Show this year.
I like what a local magazine had to say about the show..... " On Saturday, July 11, around 1,400 quilts will hang in the open air throughout Sisters, the community's annual transformation into an outdoor gallery of colors and patterns, stitches and shapes - a wide tapestry representing an international quilting family now four decades in the making."
And hang them they did. Here are a few pictures that tell the story of the show.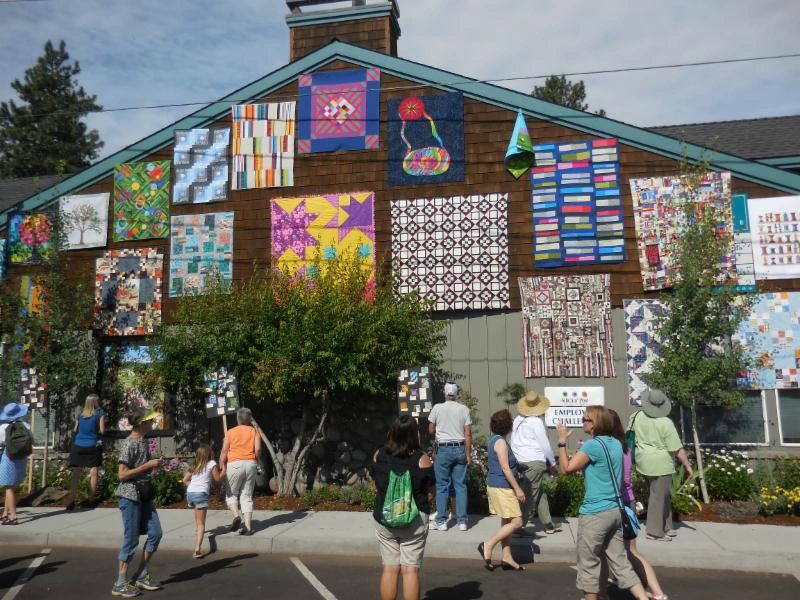 Quilts on the side of the Stitchin' Post Quilt Shop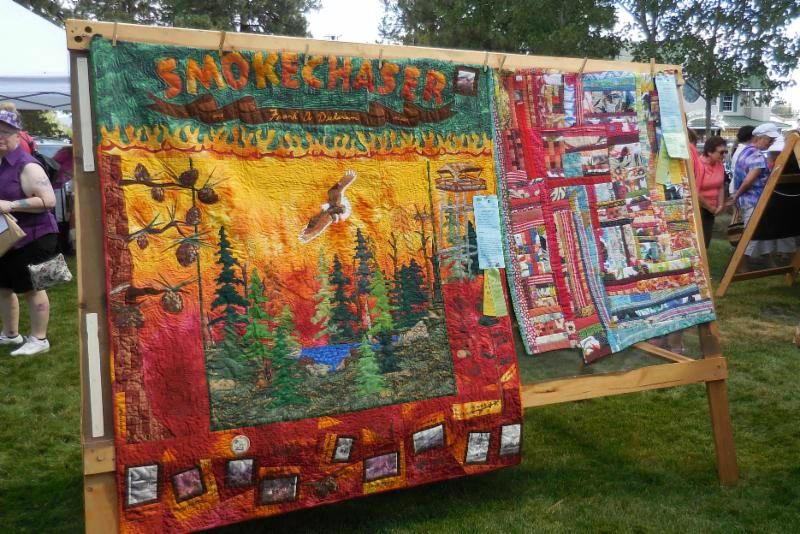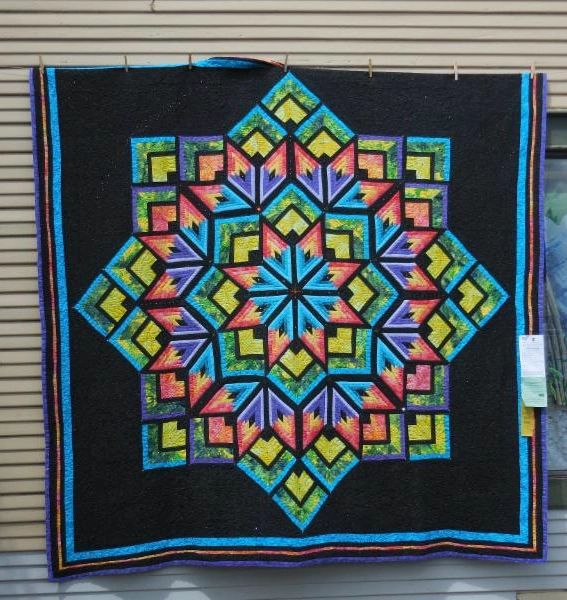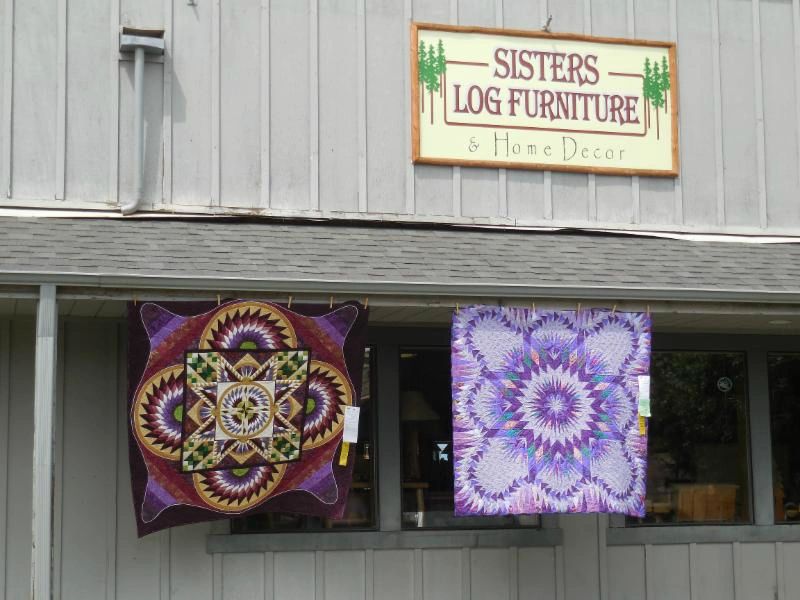 The Gee's Bend Ladies Were There With Some of Their Quilts
Gee's Bend Quilts
Yes, it does get windy in Eastern Oregon. Most quilts are hung on wires secured with clothespins. Sometimes they do come loose. So there is an entire group of volunteers that form the Quilt Rescue Team. They ride around in golf carts ready to re-hang quilts that come unhooked. Here they are telling Hazel about their duties.











In addition to the Show the largest picnic you have ever seen takes place in the park on Friday night. This year over 800 hungry quilt lovers were feed and entertained.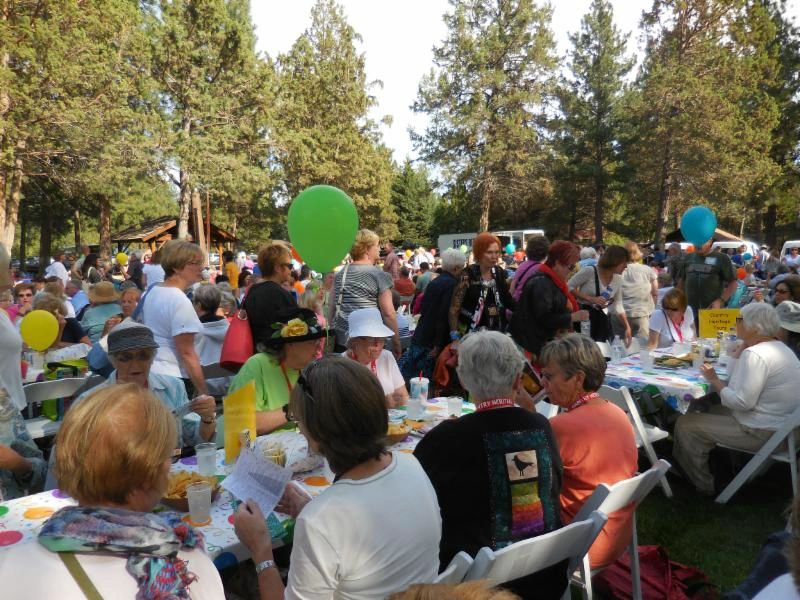 Prior to the show there are classes and of course, time to shop at the Sttchin' Post.
Congratulations to Jean Wells Keenan on the 40th Anniversary of this great spectacle of quilts. This unbelievable one day outdoor quilt show should be on all quilters' bucket list.

Evelyn Link
Thank you Evelyn for sharing your pictures of the Sisters Quilt Show with us.
It looks like you and Hazel had a great time. And it was fun for me to reminisce.

~ ~ ~ ~ ~ ~ ~ ~