The Wonders of Peru
This is truly a luxury journey into the heart of the Andean culture. From a coastal city to the heights of the Andes you will be immersed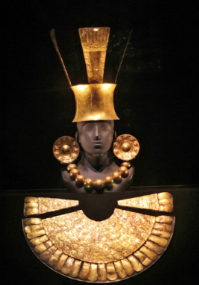 in the daily life of the people of Peru. It's villages and towns are filled with colorful markets, Andean music, native cuisine and handmade textiles. In Lima, as you stroll through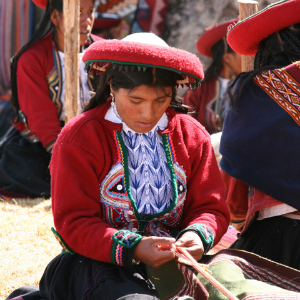 a magnificent museum with its curator, get first hand insights into Peru's history and arts. Hear how the Andean and European cultures have combined in the arts with Silvia Stern in the impressive Barbosa-Stern Collection. The Sacred Valley opens the door to the Andean Highlands' way of life. Enjoy an extraordinary visit with Nilda Callanaupa, the founder of the Centro de Textiles Tradicionales del Cusco, and her friendly artisans. Where locals wear their native attire with pride. Learn of the traditions of the artisan weavers and try your hand at making these ancient textiles. You will be inspired by these women and their beautiful textiles. Spend a fun day in an Andean village in their brightly colored ethnic clothing, learning of their daily tasks and participating where you can. This sharing of skills and culture brings you into the heart of the people and their history.
Machu Picchu, just saying the name evokes mental pictures of the mountainous ruins
and the glory of the Inca civilization. You have two opportunities to explore this spectacular Inca ruin with a knowledgeable guide. Staying at the Inkaterra Machu Picchu Lodge you may enjoy some of their special excursions, like a walk through a mountain garden. Cuzco welcomes you with a colorful market, a mammoth stone fortress, unbelievable temples, unique architecture, and an extraordinary tapestry collection. A city made to explore and filled with treasures.
Winding your way through the mountainous Andes on your way to Puno, visit small villages with sacred churches and ancient ruins. Arriving at Lake Titicaca explore floating islands and their i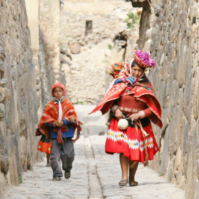 nhabitants who live on these islands made of local reeds and their impressive reed boats. Interact with these happy people and enjoy a lunch with them. Learn that it is the men who do the colorful knitting. This journey through Peru has offered you the opportunity to understand its long and varied history, to see and try its colorful textile heritage, to partake of its cuisine, and explore its villages, cities and ancient wonders but most of all to get to know its people. A joyous Peruvian trip of a lifetime!
Do you want more? There is a trip extension to the Peruvian Amazon, with rain forest walks, boat tours of the Amazon's rivers, and opportunities to see the animals and birds plus the flora and fauna of the Amazon Rain Forest. See and experience the other part of Peru.