Day 10 - Lima
Fly with group to Lima. You will be greeted and transferred to your hotel for the evening.
Accommodation:
Day 11 - Flight Lima to Puerto Maldonado - Amazon Rainforest
This morning head to the airport for our flight to the Amazon portion of Peru. The flight takes us to Puerto Maldonado, located in southeastern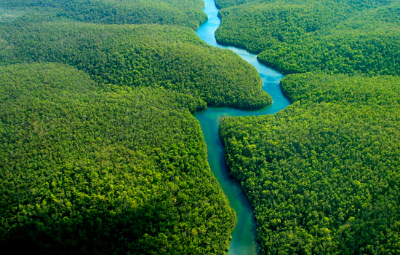 Peru in the Amazon rain forest, just west of the Bolivian border. Here we will be met and transferred to our
Inkaterra Reserva Amazonica Lodge
for a 3 day/2 night Amazon rain forest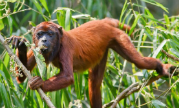 program. Your stay provides an authentic experience in the Peruvian Amazon, it was ranked by National Geographic traveler as one of the 25 best Eco-lodges in 2013. It is located within 57.9 square miles of protected virgin rain forest along the Madre de Dios River.
Upon arrival in Puerto Maldonado you will visit the Butterfly House the check-in point for the lodge. You may leave extra luggage here. You will begin to feel the enchantment of the rainforest as you take a 45-minute boat ride along the Madre de Dios River to the Inkaterra Reserva Amazonica Lodge. After a short briefing, settle into your beautiful
cabana and then enjoy your lunch in the dining room.
Meet with your Explorer Guide and choose from the various excursions available. We recommend for you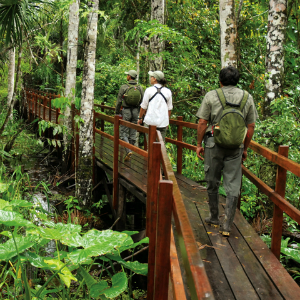 first day a guided walk along trail system into the natural area where you will discover the Amazon Basin. This trail offers an excellent introduction to the jungle environment, winding past impressive trees and offering excellent opportunity for bird watching. We also recommend our Twilight River excursion - a guided afternoon boat ride on the Madre de Dias river. You will witness the transformation from a daylight to a nocturnal world where animals of the daytime give way to species adapted to the night. Learn about their habits while you search for nightjars, owls, capybaras
and big caimans.
Enjoy dinner served in the main dinning room from 7:30-9:30PM. After dinner you may join with the staff and guests to talk about your experience in the rainforest, as you listen to the intriguing sounds of the jungle at night.
Accommodation: Inkaterra Reserva Amazonica Lodge - Puerto Maldonado - Peruvian Amazon B L D