The Colorful Hill Tribes of Northern Vietnam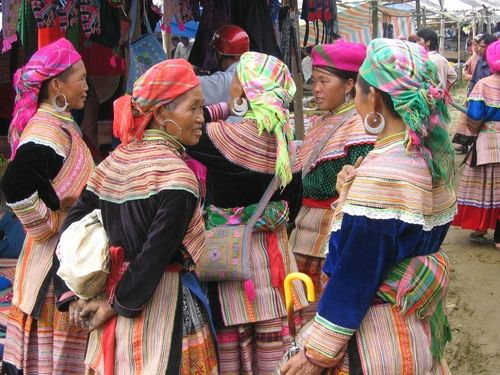 Entering the mountain valleys of far North Vietnam you will discover the colorful hill tribes each with its own language, lifestyle, and cultural heritage. Many of these minority groups have migrated to this area from all across Asia. Vietnam's government recognizes 54 ethnic minorities, these are referred to as a whole as Montagnard. Small villages are found nestled in valleys where they lead a rather secluded life style, many sustaining themselves by working the beautifully
terraced rice fields climbing up the hillsides.
The best gateway to these villages and hill tribes is through Sapa. You can catch an overnight train from Hanoi to Lao Cai and then take local transportation (taxi) to Sapa, about a 30 minute ride. This is the best place to stay with choices of accommodations.
Sapa is a hillside village sitting in the midst of the Hoang Lien Mountains. These mountains border the northwestern frontier of China. The natural beauty of the area is composed of slopped hills with luscious landscapes, sometimes wrapped in an airy white blanket of clouds. Sapa was founded by the French and still carries a French flavor in the urban architecture. It has become more of a tourist oriented village over the years, however, you will still see many women dressed in hill tribe fashions, some beautifully decorated in hand embroidery. You will hear different dialects, with hill tribe people going on about their business. All this combines giving Sapa an air of authentic hill tribe daily life.
From Sapa you can venture out to various villages. Some may be reached by walking and hiking and others by local
transportation. Be sure to allow time to visit the spectacular local market in Bac Ha on Sunday (69 miles), where villagers from all corners of the region come to trade and sell their handicrafts, animals, clothing, foods and more. The market highlights the cultural features of Vietnam's remote areas. The bright colors of some of their clothing, the dyeing and weaving of some of the fabrics, the rich embroidery of their garments, the black garments of other tribes with bright headscarves, all this makes for a fascinating view into their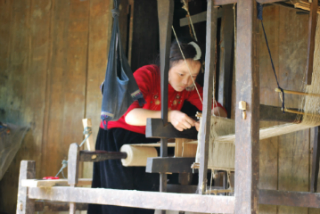 lifestyle and sets each village apart by their clothing. What a wonderful background for stunning photos. Be sure to take time to barter over some of their beautiful handicrafts, these not only give you a lasting memory of the market but also make wonderful souvenirs. The handicrafts are made by some of the ten Montagnard groups living near Bac Ha- Flower Hmong, Dzao, Giay (Nhang), Han (Hoa), Xa Fang, Lachi, Nung, Phula, Thai and Thulao.
Another small but fascinating market is the colorful Can Cau market open only on Saturday. It is just south of the Chinese border. Participants are usually H'mong groups from the highland villages, also Black Zao and Phu La groups. The Flower Hmong are known for the intricate embroidery of their native dress. They often travel to the market by horseback as a way of carrying their heavy loads to and from the market. Can Cau also attracts some Chinese traders.
I do suggest that you make arrangements to go out to visit some of the villages when planning your trip. You will be rewarded by the opportunity to experience the culture, traditions, and way of life of these sturdy hill tribesmen. Watch how they manage their well manicured rice terraces, some having been in their families for many generations. Their clothing is also of interest and you will find women weaving cloth for their garments, doing dyeing - especially the deep hues of indigo. Young girls are taught the skills of embroidery, which used to be a prerequisite of marriage in some ethnic groups. Many of the villages offer home stays for hikers or trekkers. You may also want to try some of their homemade rice wine, but watch out it requires a cultivated taste, in other words, it is strong.
If you are interested in a true cultural experience with the ethnic minorities of Vietnam then put Sapa on your vacation wish list. It is truly a step back in cultural time, and one you will remember for a lifetime.
We offer several categories of tours to Vietnam, customized trips for one or many, customized group tours, and our scheduled departure tours for women.
Contact us for more information or to schedule a tour.
Judy's Creative Adventures