A Woman's Unique Vietnam Cultural Adventure
"History, Traditions, Handcrafts, Textiles & Warm People"
September 2018
Plus Cambodia Extension (Following Tour)
Overview:
Vietnam offers the traveler a wealth of riches, in its cultural diversity, its overwhelming scenic beauty, and its enduring traditions. From floating down the Hong Long river in a small boat rowed by the locals, to spending the night in a traditional junk on mesmerizing Halong Bay, from walking through an ethnic hill village to strolling the tree lined boulevards of Hanoi, from dodging the motorbikes in Saigon to wandering peacefully through a verdant rice paddy, from a child playing on a dirt road to high school girls riding their bikes in an elegant white Ao Dai, from purchasing a hand embroidered pillow cover in Sapa to having a custom tailored silk dress in Hoi An, from small beautiful antique temples to a royal emperors tomb in Hue, Vietnam offers you a wide spectrum of opportunities to become immersed in their cultures and traditions.

From one end of Vietnam to the other, A Woman's Vietnam Cultural and Textile Adventure explores these magnificent cultural opportunities, while staying in 4 and 5 star accommodations, and experiencing the true flavor of Vietnam. On our tours you will be with other women who have similar tastes and the love of travel. This is a specialty tour designed by women for women.

For those interested in textiles, you will love the rich history of silk, and other handicrafts. In the hill villages around Sapa in the far north, you will discover their traditions of weaving and dyeing their fabrics. Visit markets where ethnic minorities come to sell their wares and meet with friends. Their clothing is still reflects the villages' traditions, bright and colorful, some filled with heavy embroidery, some you can tell by their headscarves or decorations, each village is distinctive. Embroidery is not just for the hill people, it is an art form that has been practiced throughout the country for centuries. The large silk paintings are gorgeous! Come join with us on this incredible Cultural and Textile Journey.

Itinerary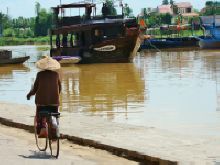 Day 1 - Monday, Sept 05 - Arrive Hanoi
Welcome to Hanoi, Vietnam! Upon your arrival at the Noi Bai International Airport you will be met and welcomed by our tour guide and driver, and transferred to your hotel. Balance of the day at your leisure to have a rest and acquaint yourself with your hotel and its surroundings. Get acquainted this evening with other tour members at a Welcome Dinner. .
Overnight in Hanoi D

Day 2 - Tuesday, Sept 06 - Hanoi City Tour
To day will be an exploration of Hanoi, the capital of Vietnam for over 1,000 years. You will enjoy seeing the blend of
East and West, with Chinese influences from centuries of dominance, and French design from its colonial past. Hanoi, Vietnam's second-largest city, is becoming a rising star in Southeast Asia due to its current modernization. Start the morning with a walk through Ba Dinh Square housing the Ho Chi Minh complex, comprising of his Mausoleum, the impressive House on Stilts his former
residence, the Presidential Palace that he refused to live in, then view the One Pillar Pagoda, whose origins date back to 1049. Learn more about the history and culture as you stroll through the beautiful and tranquil Temple of Literature, known as Vietnam's first university since the 11th century. Next visit the Ethnology Museum, which focuses on the 54 officially recognized ethnic groups by showcasing their textiles, traditions and rituals. This afternoon, visit lovely Hoan Kiem Lake and Ngoc Son Temple (Temple of the Jade Mound). Enjoy a Cyclo (rickshaw) tour through the bustling historic Old Quarter. The area is famous for its small artisan and merchant shops of all types, including many silk shops. Then attend a traditional performance of the unique water puppetry show.
Overnight in Hanoi. B L


Day 3 - Wednesday, Sept 07 - Hanoi – Hoa Lu – Tam Coc – Lao Cai
This morning, travel south to Hoa Lu, in Ninh Binh Province in the Red River Delta. Traveling through rice fields broken up by picturesque limestone mountains you arrive at the rem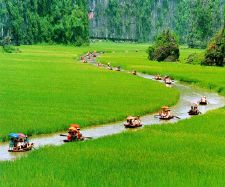 ains of the ancient 10th century capital of Hoa Lu. Visit one of the local ancient temples dedicated to King Kinh and King Le, two heroes who lived in the 10th century. Step into a boat rowed by the locals and enjoy a leisurely float trip down the Hoang Long river which is bordered by the stunning scenery of Tam Coc (three caves), surrounded by limestone mountains melting into verdant rice paddies, it is known as "Ha Long Bay on Land". You will float through three caves, all created by wind and water from an ancient time when the sea covered this area. Watch for local goats roaming freely and an occasional monkey. Return to Hanoi and prepare to transfer to the train station. This evening starts your ethnic cultural experience as we board the night train (sleeper car) to northern Lao Cai and Sapa.
Overnight on train in sleeper car. BL

Day 4 - Thursday, Sept 8 - Lao Cai – Sapa – Lao Chai - Ta Van - Sapa
Your train arrives in Lao Cai in the early morning. You will meet by our local guide to be transferred to Sapa.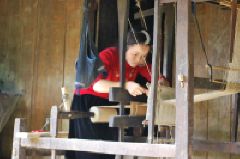 Breakfast will be served at local restaurant, with a quick look at the local market. After breakfast we will follow an easy walking road to the villages. We first visit the Lao Cai Black Humong minority village for a demonstration on their dyeing techniques. The village ladies will demonstrate how they spin hemp fibers, weave them into textiles and dye their fabrics. Next visit the Ta Van village of Giay minority by following a popular walking route. After visiting Ta Van you will be driven back to Sapa.
Overnight in Sapa. B L

Day 5 - Friday, Sept 9 - Sapa – Ta Phin – Sapa – Market
After breakfast, travel by car downhill to Ta Phin where you will meet Red Dao and Black Hmong minorities, two of the largest ethnic groups in the Sapa area. While in Ta Phin participate in an embroidery class from the local ethnic women. Our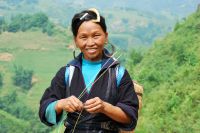 guide will explain about the local daily life of these ethnic groups. Following our class we will take a walk up a trail through a beautiful mountainous area. Enroute, you have many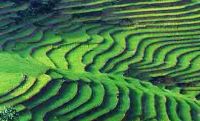 opportunities to enjoy spectacular views over rice paddy terraces and cornfields. Stop at a nice spot for lunch to be served. If you do not wish to take the walk other arrangements can be made. Transfer back to Sapa and free time for shopping at Sapa Market.
Overnight in Sapa. B L

Day 6 - Saturday, Sept 10 - Sapa - Can Cau – Bac Ha
Get out your camera, this is going to be a colorful weekend with two large, local ethnic markets to visit. Today you will
travel to the Can Cau market by car. The ride is relatively flat from Lao Cai to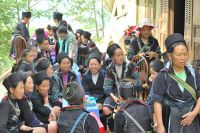 Bao Nhai, a Black Hmong community. This is a rural area giving you the opportunity to view the local scenery. Situated in the mountains in a border area, Can Cau is a small, but very colorful market. Open only on Saturdays, it always delivers a very photogenic display of Flower Hmong, Black Zao, Phu La ethnic attire. Chinese people also gather for trading. After spending the morning exploring the market, visit the town of Bac Ha for lunch.
In the afternoon, take a walk to Ban Pho village of Nung and Flower Hmong, which is located in a small valley (it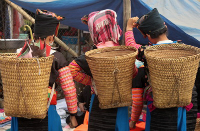 is approximately 1 Hr. walk to the village). The villagers

grow vegetables and fruit. One of the most famous fruits of the area is the plum. You will be able to visit a local home, where you may have the opportunity to taste a cup of corn wine, another famous product of the village. If you do not wish to walk you can remain in Bac Ha. Return to Bac Ha in the late afternoon.
Over night in Bac Ha. B L

Day 7 - Sunday, Sept 11 - Bac Ha – Trung Do – boat trip to Coc Ly – Lao Cai (Train)
After having a morning coffee, take a short walk to visit the old castle of the former Hmong King. From there you have a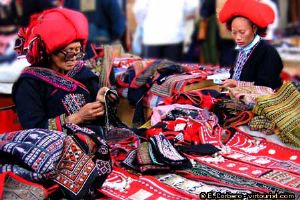 great view over the town. You will then visit the huge market of Bac Ha with its colorful array of ethnic minority people such as Flower Hmong, Phu La, Black Dao, Tay, Nung who gather to buy and sell. After spending the morning exploring the market, your lunch will be served in a local restaurant.
After lunch, drive downhill for about half an hour. Then take a short walk to the Trung Do village, which belongs to the Tay minority. Here you can stop by a traditional Tay house for a cup of tea before you board a boat. The cruise takes you upstream on the Chay River to experience the picturesque scenes and the magnificent sight of a beautiful cave. The boat ride ends at Bao Nhai bridge where you meet your vehicle for the journey back to Lao Cai Railway Station for the night train to Hanoi.
Overnight on train. B L

Day 8 - Monday, Sept 12 - Hanoi – Halong Bay
You will be me
t at the Hanoi Railway Station, then transfer to Ariva Nam Ngu Hotel where
you have a morning room to freshen up, then have breakfast at the hotel. Next begin the drive to Ha Long Bay, listed as a World Heritage Area of outstanding natural beauty. Pass through the rich farmland of the Red River Delta, and enjoy the lush scenery. On arrival at Ha Long Pier, board a traditional wooden junk and check in for an overnight cruise amongst the surreal karst islands rising from a tranquil emerald sea. Enjoy a sumptuous on-board lunch of special seafood and explore Sung Sot Cave, one of the most beautiful caves in the bay. Witness a splendid sunset.
Dinner and overnight on board Junk. B L D

Day 9 - Tuesday, Sept 13 - Halong – Hanoi – Hue (Flight)
Early morning coffee and tea will be served on the sundeck followed by a Tai Chi class. Continue exploring the Bay.
Change to a small boat to discover the Luon Cave and pass through a pretty entrance which leads to a tranquil round lake, surrounded by luxuriant trees and high stone walls. Cruise to boat pier. On the way from Halong Bay to Hanoi, enjoy a stop at Bac Ninh Province to gain more understanding of Vietnamese history and culture. You are welcomed at Dinh Bang,
a cultural village. A horse drawn carriage will transfer you to the Do temple. Next enjoy a traditional music show "Quan Ho" or called Quan Ho Folk Song. Continue on to Hanoi where you will transfer to the airport for the flight to Hue.
Overnight in Hue. B L

Day 10 - Wednesday, Sept 14 - Hue City Tour
Hue (pronounced "way"), originally called Phu Xuan, was built in 1687, and became the cultural, religious and economic capital of the Nguyen Dynasty from 1744 to 1945. Hue has had a very tumultuous past and is enjoying its present day p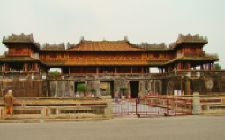 eace. You tour begins at Hue's Ancient Citadel and the impressive entrance gate to the Imperial City. From the top of the entry gate you have a good view of the interior including the moat, this is where the emperor would watch his troops' maneuvers. Inside the Citadel is the Imperial City and inside this was the imperial enclosure called the Purple Forbidden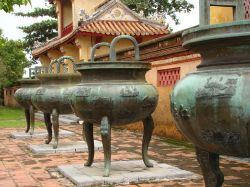 City, created in the 19th century and modeled on the Forbidden City in Beijing, China. Much of the imperial enclosure was bombed, however with the help of UNESCO and other organizations it is being restored. There are some lovely buildings and gates to be seen in the Imperial City.
Continue on to visit the magnificent tombs of Emperors Minh Mang and Khai Dinh. Both of these lavish tombs are large, one is a garden setting; the other, a huge edifice. In the afternoon enjoy a cruise on the Perfume River to visit Thien Mu (Heavenly Lady) Pagoda(1601) sitting on the banks of the river. It is lovely and also has nice Bonsssai collection. Next explore the busy Dong Ba Market. This evening you will partake of a Royal Dinner.
Overnight in Hue. B L D

Day 11 - Thursday, Sept 15 - Hue- Danang – Hoi An
Th
is morning we will drive to Danang. Visit the culturally rich Cham Museum filled with artifacts from the Champa Kingdom, the only museum in the world dedicated solely to this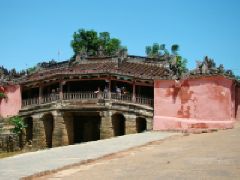 era. A little farther on visit the Marble Mountains. Below the mountain is a village of stone cutters who for many years have secured beautiful marble from the mountains and carved it into all types of sculptures.
Continue to Hoi An known as an ancient town of meandering narrow streets dating back to the 16th century. It was a major trading center until its river silted up. Hoi An is filled with buildings showing the designs of the many merchants trading and living there. Today you will have a chance to visit Hoi An's many sights including the Quan Cong Temple, the Quang Dong Pagoda, The Phuoc Kien Pagoda, the Japanese Covered Bridge, the Tran Family Chapel, Sa Huynh Museum, and Phung Hung House and local market, during our walking tour. Balance of afternoon is free. Hoi An is a great place to have garments tailored.
Overnight in Hoi An. B L

Day 12 - Friday, Sept 16 Hoi An - My Son – Hoi An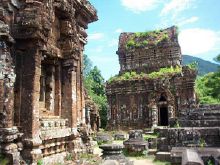 This morning, drive to My Son Holy Land. My Son was the capital of the once mighty Champa Kingdom. It boasts a complex of ancient ruins that date back 1,700 years, and is the most complete example of ancient Champa ruins in Vietnam. Free time in the afternoon to stroll through Hoi An, do some shopping, or lay on the beautiful beaches.
Overnight in Hoi An B L

Day 13 - Saturday, Sept 17 - Hoi An – Cooking Class
Today is a fun day of exploring the local market and taking part in a cooking class. Your morning starts at a local
cafe, followe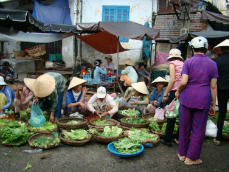 d by a tour of the colorful local market to see all the wonderful fresh foods that are available. It is filled with local ladies doing their daily shopping and catching up on the local news. Next board a boat and sail along the Hoi An River to the cooking school. This is a good opportunity to view the local river life. Arrive and get settled for the cooking class. Each person has their own little stove and we have a great time preparing popular Vietnamese food. Then sit down to enjoy the lunch you have prepared. Free afternoon.
Overnight in Hoi An. B L

Day 14 - Sunday, Sept 18 - Danang – Saigon city tour (Flight)
After breakfast transfer to the airport for flight to Ho Chi Minh City (Saigon), once called the "The Pearl of
the East". This afternoon explore some of the sights of the city. Visit the Vinh Nghiem Pagoda, the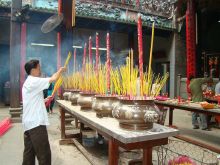 Notre Dame Cathedral, the Colonial Post Office built by Gustave Eiffel, the War Remains Museum. Then visit China Town with its bustling traffic and busy market of Cho Lon. Time to wander along some of the historical boulevards. This evening join together for our Farewell Dinner.
Overnight in Hanoi B D

Day 15 - Monday, Sept 19 - Saigon/Ho Chi Minh City – Departure
After breakfast make sure you have packed all your Vietnam treasures and memories. Bid farewell to Vietnam and all your new friends. Transfer to the airport for your flight.

OR .... Begin your exciting Cambodia Extension with a flight to Phnom Penh for sightseeing and then visit Siem Reap the gateway to the magnificent Angkor Wat Temples.
Click here for Cambodia Extension
~ ~ ~ ~ ~ ~ ~ ~