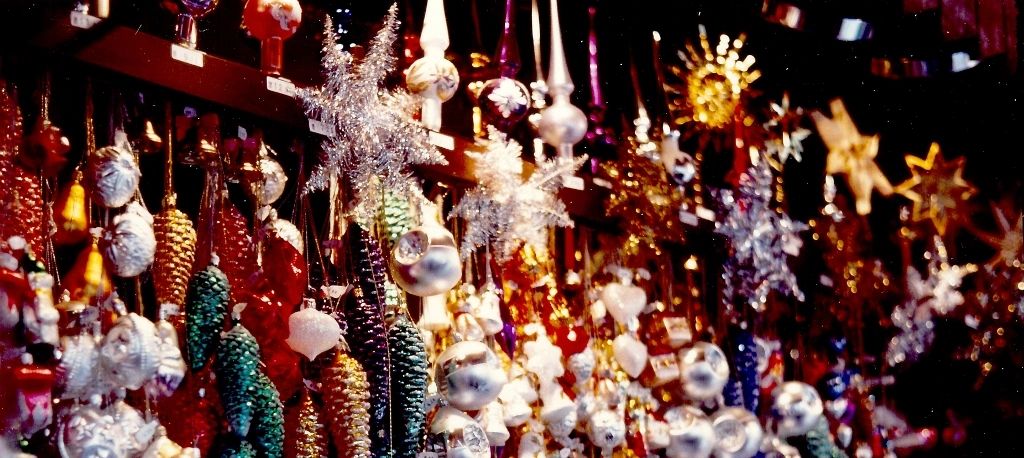 Christmas Markets of Saxony - Eastern Germany
Dresden - Meissen - Erzgebirge - Seiffen - Freiberg - Leipzig
Feel the Spirit of the Season
December 2017
Germany is world famous for its traditional Christmas Markets. The Free State of Saxony represents an area of unrivaled natural beauty, a rich cultural landscape, and centuries old traditions. Your tour explores Saxony with an emphasis on their traditional Christmas Markets and rich cultural heritage.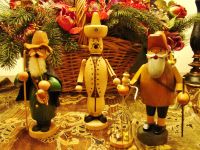 These markets offer romantic charm with Christmas pyramids, smoking figures and candleholders from the Erzgebirge Mountains (Ore Mountains). You'll find lace from Plauen, blown glass tree decorations from Lauscha, indigo-dyed textile products & pottery from Lusatia and specialties from each region we visit. There are tasty treats and wonderful Gluhwein to warm your body. In Dresden you will be in time for the annual Stollen Festival.



Photo: German Nat'l Tourist Board/Brzoska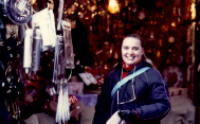 In Dresden, the sparkling Striezelmarkt is Germany's oldest Christmas Market originating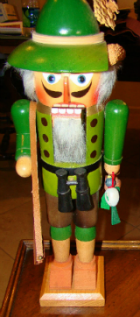 in 1434. While there visit the treasures in the Green vault & Zwinger museum, and enjoy a lovely holiday concert. Tour Germany's oldest, world famous, porcelain factory in Meissen. Leipzig is one of Germany's largest Christmas Markets and Seiffen is where the enchantment of hand-carved wood Pyramids began. Each city has its own unique traditions that have survived through decades. Plus the region is filled with rich history, castles, monuments and museums, all bedecked for the holidays. This is a tour that will fill your senses as you immerse yourself in the magical traditions of the season.
Itinerary
Dec - 5 - Arrive in Dresden
Your tour begins as you arrive in the historic city of Dresden, located in the heart of Saxony, and the "Land of Christmas Traditions". Transfer to your hotel. This evening we will join together to get acquainted.
International airfare is not included in the tour package, as many wish to use air miles and favorite airlines. You may book your individual air transportation or, if you wish, we will be happy to assist with your air bookings through our sister agency. Overnight in Dresden More on the city of Dresden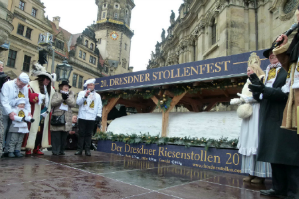 Dec - 6 - Dresden
This morning we will gather with the locals for the famous Stollen Festival. A team of horses brings in the massive Stollen which is presented to the people. It is first transported around the city streets with all the many bakers keeping guard. History says that Saxony's most famous king, Augustus the Strong, the Elector of Saxony and King of Poland, was passionate about the pleasures of life in all forms. He loved Dresden Stollen and in 1730 at the end of a huge military encampment he invited 24,000 guests to an opulent meal crowned by a 1.8 ton Stollen. Today hundreds of bakers gather to bake a giant Stollen to keep the tradition alive. Enjoy some tasty Stollen!

This afternoon meet our local guide for a walking tour of Dresden's historical old city center.
Dresden was once known as the "Florence on the Elbe" for its architecture and art treasures. It suffered greatly
during World War II. Wonderfully, it has undergone a dramatic restoration and is again a beautiful and fascinating city filled with churches, palaces, Opera House, and world class museums. Dresden will be bedecked in its finest holiday attire. This will be most evident at the glittering Striezelmarkt (Christmas Market) with its giant Christmas tree.
Visit the famous Zwinger Museum where we will have a guided visit of the Old Master's & Porcelain Gallery to see the 16th-18th century Christmas Paintings. Stroll through the Striezelmarkt, Germany's oldest Christmas Market. Its name is derived from Hefestriezel, a delicious holiday treat, now known as "Dresden Christstollen". The market is filled with festive charm, its focal point is the world's tallest Christmas pyramid, with large figures and glowing lights especially in the evening. This evening enjoy a candlelit concert in the historic Frauenkirche.
Overnight Dresden B More on the Semper Opera House
Photo: German National Tourist Board/Messerschmidt
Dec - 7 - Dresden
This morning a guided tour of one of Dresden's finest museums, the world famous Greenvault

(Grunes Gewolbe). The Greenvault enjoys world renowned fame as one of the richest treasure chambers in Europe. The collection was so abundant that when it was rebuilt it was divided into two sections. The Neues Grunes Gewolbe reopened in 2004 with over 1,000 items and in 2006 the Historisches Grunes Gewolbe opened. This treasure chamber was reconstructed in a baroque style just like the old Greenvault. The
Photo: German Nat'l Tourist Board/Kiedrowski opulent treasures in both sections are wondrous, many covered with sparkling jewels and glittering gold. This afternoon we will visit some of the other surrounding sights of Dresden, including a ride on a mountain railway offering splendid views of Dresden. Evening free to explore the markets. Dresden has several other fascinating Christmas Markets to tempt you. Overnight in Dresden B More on the Dresden Christmas Markets

Dec - 8 - Meissen
This is a very special day. We will travel to Meissen, home of the famed Meissen Porcelain Factory. Meissen was founded in
929 as an early Slavic settlement and sometimes called "the Cradle of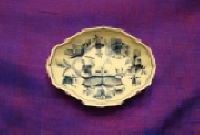 Saxony". The Albrechtsburg towers above the city and is the first castle to be used as a royal residence in the German-speaking world. It was built in the late Gothic style between 1472 and 1525 and today is a museum. The Meissen Cathedral shares the same hill as the castle, and for lack of space, is one of the smallest (Gothic) cathedrals in Europe. Also time for a visit to their local Christmas Market. Meissen is in the wine growing region of Saxonian wines.

You are in for a treat as you tour the workshops of the Meissen Porcelain Factory. This was the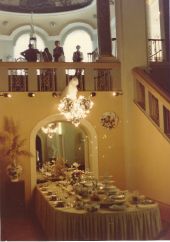 first European hard-paste porcelain developed in 1708. It attracted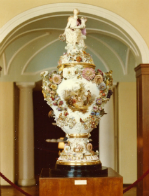 artists from around the world and has one of the oldest trademarks in existence. The crossed swords trademark signifies the high quality of Meissen porcelain, the pieces displayed in their showroom bears this out and are spectacularly beautiful. And, of course, there is a marvelous gift shop.
Overnight in Dresden B L




Dec- 9 - Erzgebirge (Ore Mountains area)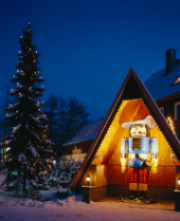 Today enjoy a fantastic trip into the heart of the Ore Mountains to the birthplace of the hand-carved German Christmas pyramids,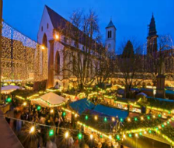 smokemen, and figures by the local miners . This region was the largest Christmas and toy supplier in the world in the 1800's and early 1900's. Pyramids were the first items produced, each level having a different scene & powered by candles. This was a cottage industry involving the entire family and today it continues in the same time honored tradition as generations before.
As we travel through the Erzgebirge, visit Freiberg founded in 1186 and a center of mining in the Ore Mountains for centuries. Visit the Freiberg Cathedral of St Mary with its two famous pipe-organs. Freiberg also hosts a wonderful
Christmas Market. Photo: German Nat'l TouristBoard/Keute

Visit magical Seiffen, the center of the Christmas carving and wooden toy industry. In the late 1600s, as the silver and tin mine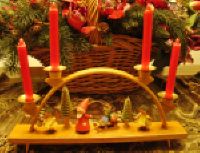 deposits declined, the miners used an old craft, woodcarving and toy making, to support their families. This tradition has flourished and today Seiffen is home to many woodcarvers and
Christmas ornament makers. Wander from one magical workshop to another to experience the picturesque Christmas scenes and fascinating displays of intricate pyramids and jolly smokemen to name just a few. You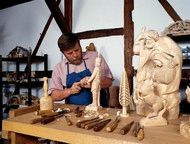 will also see nutcrackers and Schwibbogen, the wooden arches with candles that used to be placed in windows to symbolize the opening of a mine. A visit to Seiffen will certainly put you in a holiday spirit.
Overnight in Dresden B L

Dec -10 - Dresden - Leipzig
This morning ride through the countryside to the city of Leipzig.

Check into our hotel.

This afternoon a walking tour of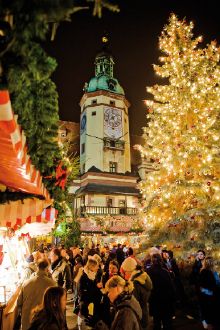 the historic city center.

Then stroll through Leipzig's Christmas Market in the Old Market Square.

This is one of the largest and most beautiful Christmas Markets in Germany. It includes a fairytale forest, the world's largest free-standing Advent calendar and a model railway, plus all the wonderful stalls filled with
German delights. Overnight in Leipzig

B D

Dec - 11 - Leipzig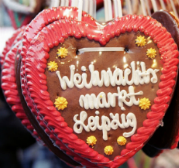 Today is at leisure to visit other historic sites, stroll through the Christmas Markets one last time, do some shopping, return to your favorite sites, or just relax.
Enjoy our farewell dinner in "Auerbachs Keller".
Overnight in Leipzig B D
Dec -12 - Leipzig - Departure
Pack up all your Holiday treasures and say Auf Wiedersehen to "The Land of Christmas" and your new traveling friends.
Transfer to the airport for your departure flights.
We will happily help you plan an extension either before or after your tour. There are many more wonderful sights to behold.
~ ~ ~ ~ ~ ~ ~