Fire Spiting Dragon Bridge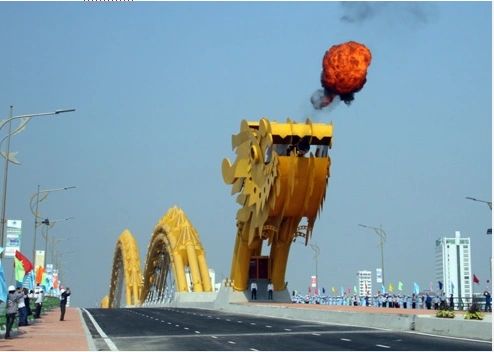 Most cities have rather boring drives from their airports to the city….well not in DaNang, Vietnam. Their new bridge crossing the Han River is a fire spitting steel dragon. This large steel span arch bridge is styled after the dragon of the Ly Dynasty, a flying dragon from Vietnamese folklore that flies to the sea and brings good luck to the people.

The bridge was designed by the United States firm, Louis Berger Group, costing more than 1.7 trillion Vietnamese Dong, about $81.5 million USD, with construction starting in 2009. It was opened with a ceremony commemorating the 38th anniversary of Danang's liberation in March.



The local citizens were delighted by the dragon as he spit out great balls of fire. The dragon head can also shoot water, however, hopefully not at the same time. At night the bridge is illuminated by 2,500 LED bulbs that follow the dragon's arching body.
The next time you are in DaNang don't miss this fire spiting example of Vietnamese Folklore symbolism.
Judy Berry
Judy's Creative Adventures
www.judyscreativeadventures.com