Home of the Ffestiniog Narrow Gauge Railway
A Horse and Gravity Railway System

Blaenau Ffestiniog, Wales
The Ffestiniog Narrow Gauge Railway was originally constructed to carry the mined slate from several quarries close to the inland town of Blaenau Ffestiniog to the coastal town of
Porthmadog. The construction lasted from 1833 to1836. The path of the railway was graded so that loaded wagons could be run by gravity downhill all the way from Blaenau Ffestiniog to the port of Porthmadog. Once the slate reached Porthmadog it was loaded onto ships for export. The empty wagons were hauled back up the hills to Ffestiniog by horses. The horses were then loaded onto special 'dandy' wagons for the ride back down to the port.

To achieve this continuous grade was quite an achievement of both planning and construction. The rail line followed the natural contours of the topography. The archit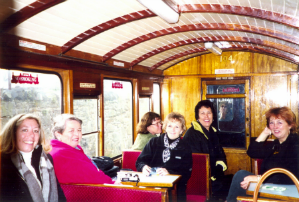 ects of the project employed many different means to achieve the continuous downhill momentum including making cuts through hillsides and building embankments of stone and slate blocks. These were built without the use of mortar. The slate trains were coaxed over the top via inclines. The site can still be seen but there are no visible remnants of them. Later a long tunnel through a spur in the Moelwyn Mountain was built for a much easier passage of the trains. At the height of the slate mining operation up to six trains were run daily in each direction.
Llechwedd Slate Caverns
While in Blaenau Ffestiniog, you may wish to learn and experience more about the actual slate mining that supported this area of Wales for so many years.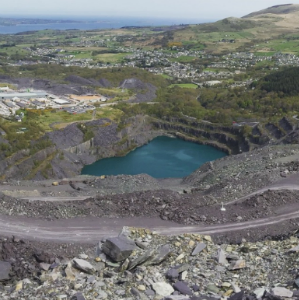 Llechwedd Slate Caverns details the history of slate quarrying in Blaenau Ffestiniog, specifically at the Llechwedd Quarry. There is an interpretive center showing how slate was mined and processed. There is also a reconstructed village which shows how the miners lived.
Two railways allow you to travel into the abandoned sections of the quarry. One is a narrow gauge Miners' Tramway, a railway that travels 800 meters underground. The train is pulled by electric locomotives and travels through tunnels and into a series of quarry chambers. The other is called The Deep Mine and is a steep passenger funicular at the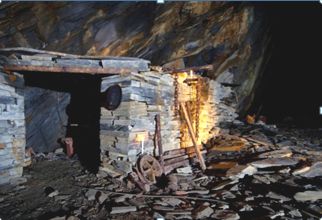 foot of the funicular you can walk through the tunnels and changers. The Deep Mine Railway is the steepest passenger railway in the UK.
There are more active adventures available at Llechwedd Slate Caverns. Recently the "Bounce Below" attraction has opened, it is called the "World's Largest Underground Trampoline" . It is located in one of the mine's caverns.


If you are a Zipline enthusiast they have a treat for you. "Zip World Titan" is the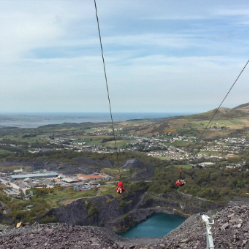 first of its kind, with over 8km of zip lines. This is reported to be the only 4 person zip line in Europe, where riders reach speeds up to 70mph over moor, mountain and mine. They provide you with a helmet and a wind suit and you sour like a bird on the way down.
If Mountain biking is your thing......they have a long downhill course that is said to be fantastic.
It looks like there is something for everyone at Llechwedd Slate Caverns.
Enjoy your time at Blaenau Ffestiniog , Wales.

More information:
Ffestiniog Railway - http://www.ffestiniograilway.org.uk/
Llechwedd Slate Caverns - http://www.wales.info/Holidays_Wales/Attractions/Llechwedd.asp