A Wondrous Women's Wildlife Safari in Kenya
Exciting Game Viewing and A Women's Cultural Experience

It is with great sadness that we have suspended this tour due to the untimely death of our dear friend and African guide Lynne Leaky who has passed away while on safari in Tanzania. Lynne was so active in saving both elephants and rhinos. She will be greatly missed.

Summer (To be rescheduled)
Put on your Safari clothes and join us for a luxurious Kenyan Safari !

This is a unique opportunity to combine the fascinating culture and traditions of Kenya with a classic wildlife safari. Meet local personalities - mainly women - whose projects and activities have had a huge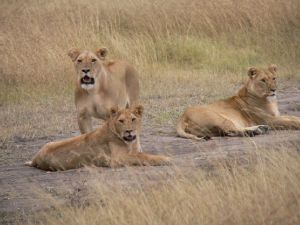 positive impact on local communities. And view firsthand the
magnificent animals of Kenya with our expert guide Lynne Leakey.
Surprise! As part of your tour, an orphaned baby elephant will be adopted for one year in your name. Later, meet your own adoptive baby elephant at the elephant orphanage. Here, babies are taken care of and acclimated to return to the wild as young adults.
Visit a local village of the Maasai for a cultural experience of a lifetime. Then, enjoy a hands-on beading lesson with some of the local women.
Since many of you are drawn to fascinating fabrics, we arranged several opportunities for you to visit shops,

as well as a textile factory. Just seeing the brilliant colors and patterns worn by the locals will inspire your future artistic endeavors. In addition to other textile related activities, we will visit spinners and weavers in Nanyki.
We will go on exciting game drives where you will see a plentiful array of marvelous wildlife from lions to wildebeests, elephants to giraffes and rhinos to flamingos. What a magnificent sight!
Your accommodations are first class in fantastic Safari Lodges or luxurious tented Safari camps. Take a guided nature walk, visit a chimp sanctuary, drink-up at a tea and coffee farm, visit Lake Nakuru in the Great Rift Valley.

As you can see this tour is filled with something for everyone - exciting game safaris, meeting and interacting with local women, exploring their arts, immersing yourself in their daily way of life. Come safari with us!


Itinerary -
A Wondrous Women's Wildlife Safari in Kenya
Exciting Game Viewing & A Women's Cultural Experience
Day 1 - - Nairobi
Your adventure begins as you arrive at the Jomo Kenyatta International Airport where you will be met by our very special tour director, Lynne Leakey. Transfer to your hotel.

Opened in 1902, the Sarova Stanley is one of Nairobi's oldest hotels. Ernest Hemingway, Denys Finch Hatton, Edward Prince of Wales, Stewart Granger, Ava Gardner and Clark Gable have all visited the Stanley. The hotel is located in the center of town and is elegantly furnished, offering Victorian elegance combined with every modern amenity. There are several restaurants including the world famous Thorn Tree Cafe' (where travelers in the colonial days used to meet and leave notes for each other), a gym, sauna area, heated pool and a small shopping arcade. Meals on this day are on your own.

Overnight - The Sarova Stanley Hotel

Day 2 - - Nairobi
After breakfast, visit David Sheldrick Wildlife Trust and Elephant Orphanage for the public tour.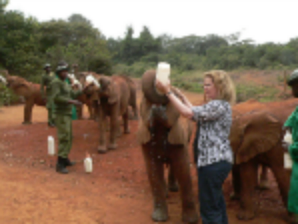 Enjoy Lunch at the Utamaduni Craft House and meet Mary Kosen, a Maasai woman, who will showcase her beautifully beaded wares. This will be followed by a brief talk on Maasai women, her school and Mary's craft project. Return to the D. S. Wildlife Trust for a private visit where you will be able to interact with the small elephants and learn about the importance of the elephant in Africa's conservation project. Later in the afternoon you will be transferred to your hotel. Professor Donna Pido will give a talk on beading, culture, and textiles. Donna is an anthropologist and consultant in several fields in Africa. Her interests lie in the interaction of design in various cultures, her field research includes art and development within the Maasai, Kisii, Sudanese and other communities. Dinner will be at the hotel.
Overnight - The Sarova Stanley Hotel B L D

Day 3 - - Nairobi/Mountain Lodge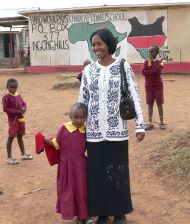 Drive North through rich agricultural land towards Mount Kenya to arrive at the Peaceful Home For Children built on the slopes of Mt. Kenya in Kianyaga. Pastor Njogoo and his wife provide a haven for 17 orphaned children. We will stop to meet the children and have some fun. Continue on to Mo

untain Lodge for lunch. A guided nature walk is planned for you this afternoon. Enjoy night game viewing from the balcony of your lodge.
Overnight at Serena Mountain Lodge BLD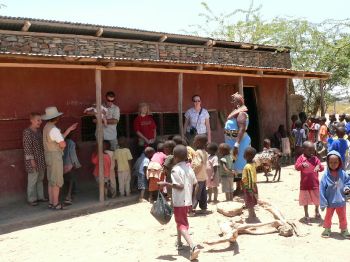 Day 4 & 5 - - Mountain Lodge/Samburu
Following breakfast, drive further north to Samburu Game Reserve for lunch. Spend two exciting days viewing game in this unique reserve which is home to a wide variety of wildlife including rare northern species like Grevy Zebra and reticulated Giraffe. Samburu is home to Rebecca Lolosoli's Umoja Women's village which you will also visit to see some of her community work.

Overnight at Samburu Sopa Lodge B L D
Day 6 - - Samburu – Sweetwaters' Private Game Sanctuary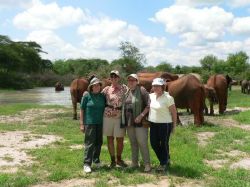 Visit the Spinners & Weavers Project in Nanyuki which employs disadvantaged women. Learn about the process of naturally dyed wool involved in the making of lovely carpets, sweaters, and other items. You can purchase some if you choose! Drive to Sweetwaters' private conservancy, Ol Pejeta Conservancy. Afternoon game drive. Enjoy a leisurely nature walk. Your tented camp is situated in a sheltered oasis,
around a water hole, in the pristine calm of the conservancy. This tented camp offers a charming blend of under-canvas ambiance and safari luxury including a veranda overlooking the water hole.
Overnight at Sweetwaters Tented camp B L D

Day 7 - - Sweetwaters' Private Game Sanctuary
Spend the day on exciting game drives. The conservancy hosts the Big Five - elephant, rhino, lion, buffalo, and leopard, and boasts the largest black rhino sanctuary. You will also visit the chimpanzee sanctuary. A day of getting 'up close and personal' with African wildlife.
Overnight at Sweetwaters Tented camp B L D

Day 8 – - Lake Nakuru National Park
Breakfast is at your camp. Drive to Lake Nakuru National Park in the massive Rift
Valley, with a lunch stop at Mugunda Farm in Subukia near Nakuru town. At this coffee and tea farm, you will have an opportunity to tour the farm to see where the coffee and tea is harvested. Lunch will be hosted at the farm house. Upon arrival at the park, embark on a game drive to see the resident flamingos along with other birds and wildlife. Your Game Lodge for two nights sits on a hillside overlooking the flamingo pink rimmed Lake Nakuru.
Overnight at Sarova Lion Hill Game Lodge B L D

Day 9 - - Lake Nakuru/Maasai Mara
Drive to the world famous Maasai Mara National Reserve for lunch. Enjoy an afternoon game drive. The Maasai Mara is not a National Park, but rather a National Reserve belonging to the Maasai people and
administered by the local county councils. It is famous for its exceptional
population of Big Cats, the Big Five, many other animals and the annual Great
Migration of wildebeest, zebra and gazelle.
Overnight at Sarova Mara Game Camp B L D


Day 10 - - Maasai Mara
Spend the day on game drives. Visit a local Maasai village for a cultural experience like no other. The Maasai are a Nilotic ethnic group of semi-nomadic people located in both Kenya and Tanzania. They are well known for their unique culture and traditions, including their bright clothing. You are fortunate to be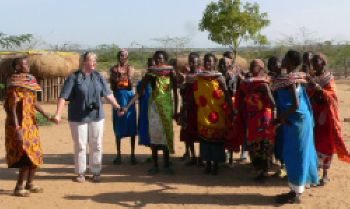 able to enjoy a special session with Maasai women, including a hands on beading lesson. This is truly an exceptional cultural experience.

Optional: You have the option to go on a early morning hot air balloon safari. Marvel at how close you can come to the animals as you float over the plains in a hot air balloon basket. Enjoy a champagne breakfast on landing.
Overnight at Sarova Mara Game Camp B L D
Day 11 - - Maasai Mara/Nairobi/Depart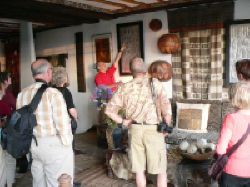 After breakfast in camp, drive to Nairobi, arriving in time for lunch at the Carnivore Restaurant. Afternoon transfer to African Heritage House for a tour of the museum house and freshen up in dayrooms before dinner.
Pack up your treasures and marvelous memories as this is the end of your exciting Wild Woman Safari Adventure.
Transfer to Jomo Kenyatta international airport for your international outbound flight.

Photo Credits: Thank you to Lynne Leakey for the beautiful photos.
Photo of Maasai Woman thanks to Annabella and Maniago Safaris
~ ~ ~ ~ ~ ~ ~ ~ ~ ~