The Beautiful YiXing Teapots From China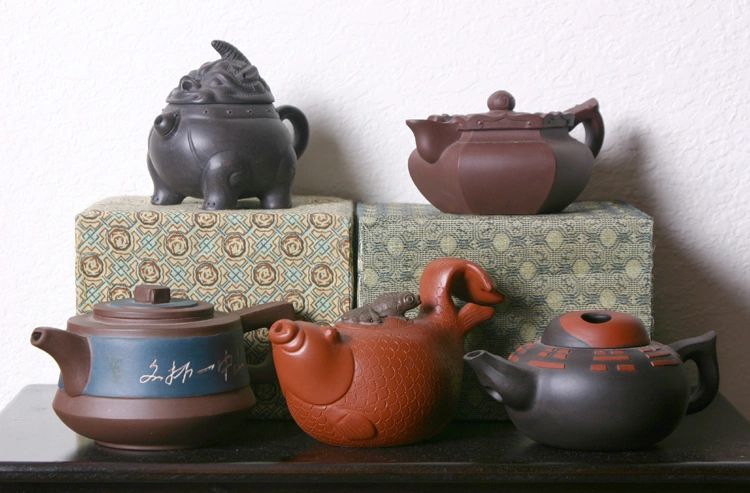 You do not have to be a tea drinker to admire the beauty of tea pots. However, if you are a tea drinker you should know about the beautiful YiXing tea pots.
Personally, I am a tea drinker. During the past 4-5 years, as I was immersed in the cultures of Asia and doing travel there as a tour operator, I became familiar with the different tea customs, pots and teas.
China's traditional YiXing (pronounced ee-shing) clay teapots are known for their small size and have been handmade with great care for centuries.
Through archaeological excavations it has been determined that potters
near YiXing were using "Zisha" ("Zi" means purple, "sha" means sand) clay to make utensils which may have functioned as teapots during the Sung Dynasty (960-129). History shows that during the reign of the Zhengde Emperor (1502-1521) a monk from Jinsha Temple in YiXing handcrafted a fine quality teapot from the local YiXing clay. These high quality teapots became very popular with the intellectual class, thus the fame of YiXing teapots spread.
The demand grew from throughout China and then in Europe. Production flourished
and artists developed a high mastery of their craft. For over three hundred years YiXing teapots were renowned in China and Europe. Europeans often tried to imitate the YiXing teapots but could not compete with the unique purple clay only found near YiXing China.
The Jiangsu province is the world's only source for the unique clay from which YiXing teapots are made, called purple or red clay. What you notice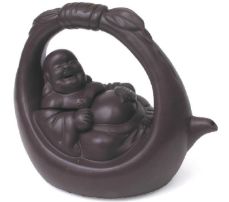 first is the attractive color of purple clay. Its color is sometimes augmented by natural pigments, however, it is never hidden by glazes. The inside of the teapots are always left uncoated. The porous nature of the purple clay absorbs the flavor, smell, and color of the tea that is brewed in it.
YiXing teapots are meant to be used with black or oolong tea or aged puerh (black) tea. Green and white tea may be used however, the water must be cooled to around 175-185 degrees F. before pouring the water into the pot.
Due to the porous nature, these teapots have the unique ability to absorb tea flavors, becoming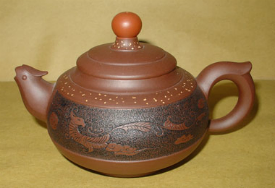 more and more seasoned with use. Because of this quality it is best to use just one type of tea for each pot. To keep this enhanced flavor in the teapot they should only be rinsed with hot water.....never soap and they are not dishwasher safe.
YiXing teapots are much smaller than our Western type pots which we use to serve several people, YiXing teapots are intended for individual use, producing 1-2 servings of tea. For this reason, the Chinese
historically would carry their own personal YiXing teapot and drink directly from its spout, although this is less common today. Today the first brew of the tea leaf is usually used to clean tea, teapot, and cups, and is not consumed.

If you visit China, the teapots are not actually made in the regional city of YiXing, but in a neighboring town of Dingshan (sometimes called Dinshu). When local mines of clay run out the mines move to another area of clay.

You will find hundreds of teapot shops lining the town's crowded streets and is a popular destination for Chinese tourists.

During a visit to Beijing one of my friends in the groups and I walked to a downtown Wal-Mart near the hotel.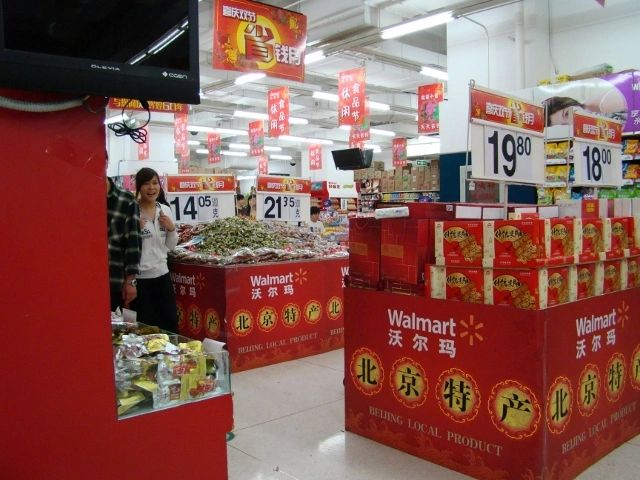 We were in the market for some bottled water and Pepsi's. Once inside the store we were fascinated with all the products we found, so began wandering.

We were very surprised to find a lovely Tea Shop with hundreds of varieties of teas and teapots. The salesgirls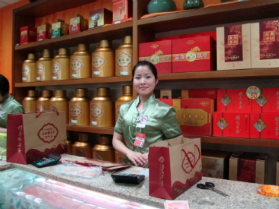 were all dressed in nice uniforms and we were offered a cup of tea.
We sat at the table and to our amazement received a formal tea ceremony.... in Wal-Mart no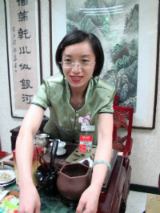 less. We tried several varieties of teas and nibbled on tea cookies and it was a delightful time as you see by our pictures. We bought several bags of teas and cookies and had a great time with the lovely girls serving our tea. As I always tell my travel clients, you never know when you will be presented with a delightful cultural moment....be sure to take the time and enjoy them!
I love my three YiXing Teapots. My Dragon Pot is dedicated to Jasmine Dragon Pearls a wonderful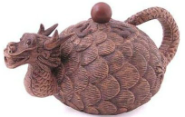 Green Tea, which I first tried in China. The Basking Buddha Teapot is dedicated to Fruitto Bianco Pearls,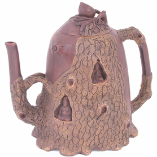 a fruity White Tea, which I am drinking as I write this article. I also like Jasmine Oolong and Himalayan Splendor. There is also a pretty porcelain teapot & cups that is from China. It is different shades of brown with gold flecks and the cups are shaped like leaves. It sits on a lovely square dish.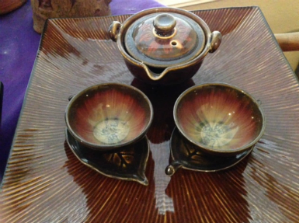 I also have a Japanese Imperial Dragon Tetsubin Teaset, with a wonderful gold dragon displayed on the pot- the symbol of the emperor in Chinese Dynasties
(Note: The dragon has five toes indicating imperial power and good fortune--everyday dragons only have four toes),
plus a tray and four cups with leaf shaped saucers. Another of my favorites is a Tetsubin cast iron, medium size Hobnail teapot - Hobnail meaning strength. Being cast iron these pots do not have to be dedicated to only one type of tea.

All of my teapots get regular use, however, my grandmother's beautiful blue porcelain tea set now takes a backseat as I have to be so careful with it, but for special occasions it is still fun to use and still makes me feel like an "English Lady" when I drink from the delicate cups. A few other tea pots fill out my little collection.
So if you have an old or well loved teapot or an antique porcelain one - don't be afraid to enjoy your tea from them and the memories they bring you.

Written by Judy Berry
2013

If you are interested in a trip to China please contact us for a wonderful customized trip, 480-264-5775.